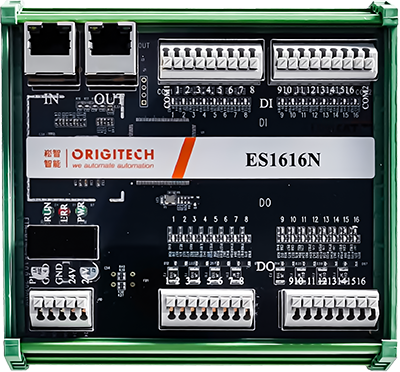 EtherCAT Remote Control IO Module
AOS-IO module ES1616N is a digital IO product that compliance with EtherCAT standard. It is cascading-designed with 16 digital inputs/outputs. The electronic power interface and all inputs and outputs are protected, which is a highly reliable network-based digital IO solution.
ES1616N

Digital Input

Digital Output

Channels

16

16

Input/output type

NPN or PNP (Optional through common terminal)

NPN

Input current

2.4mA @ 24V DC




Effective input voltage

>18V/DC (Voltage difference between input signal and common terminal)




Effective invalid voltage

<10V/DC (Voltage difference between input signal and common terminal)




Input filter

Default value 3ms (Customizable 100us~64ms)




Input and output switching time

TON < 100us, T OFF < 100us

TON < 100us, TOFF < 100us

Output drive current




total 8A, 0.5A /channel

Output payload type




Resistive load, inductive load, lamp

Output safe state




Hold (configurable)

Protection

Surge, electrostatic

Over voltage, short circuit, over temperature

IO status indication

LED: on/off

IO wiring

Single-wire crimping, wiring capacity 1.5mm, grouped plugging with screw tightening

IO electrical isolation

optocoupler isolation

EtherCAT

CoE access

Network topology

Chain, up to 255 slaves

Power supply

100mA @ 24V DC, overcurrent protection, isolation, internal anti-reverse connection

Dimensions (length, width, height)

107 x 51 x 130 (mm)

Installation

DIN rail installation: 32mm C-shaped rail, 35mm U-shaped rail

Weight

195g

Temperature, humidity

Working: -25℃~60℃, 95%, no condensation; storage: -40℃~85℃

Certification, testing

CE, EMC certification; high and low temperature test

Derivative model

ES1616N-P, of which 8 pulse outputs for stepping motor control;

ES1616N-PWMof which 8 PMW outputs for gluing valve control, laser control, etc.