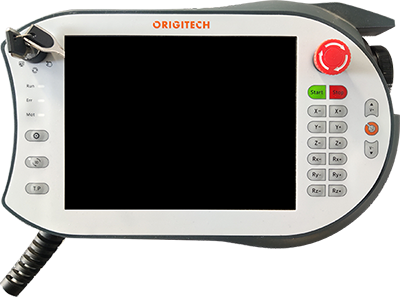 Teach Pendant TP1-IN8
TP1-IN8 is a handheld device for teaching programming, motion control operations, parameter setting, etc. of robot or machine. It integrates human machine interaction system AOS-HMI, as well as innovative graphical programming system, which significantly makes teach pendant easier to use and improves the efficiency of machine operation.

TP1-IN8 can be used together with a virtual teach pendant to program, debug and simulate on the PC and import the project file into the physical teach pendant to run.
1. Reliable graphical programming
Drag-and-drop programming, automatically code scripts generation

Offline simulation program loading in one-click

Compatible with common brand robots, export and run of programs directly
2. Rich control objects

Common brand robots such as Turing and Kawasaki

Virtual robot and combination of virtual and real
Processor

Freescale dual Core A9 i.MX6D 1GHz

Memory

1G DDR3

Storage

8G eMMC

LCD screen

TFT 8-inch, 1024 ×768

Touch screen

Reinforced 4-wire resistive screen

Operating system

Windows CE/Linux/Android

USB interface

Mini USB OTG 2.0 × 1

Membrane button

Panel 1:20 buttons,4 lamps

Panel 2:15 buttons,6 lamps

Communication

RS232×1,UART×1

Ethernet(10M/100M/1000M)

Switch button

Emergency stop

Key switch (3 states)

Deadman (3 states)

Power supply

DC 24V-50V

Dimensions (length, width, height)

294 x 192 x 97 (mm)