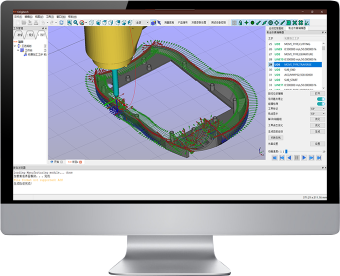 Digital Twin AOS-RioD®️
AOS-RioD®️ (RioD®️ for short) is the R&D product of ORIGITECH in the field of digital twin, it empowers manufacturing"Ready in one Day", aims to shorten the product development cycle from concept to end product and brings users easy-to-use engineering experience. RioD®️ can generate automation model, complete motion control simulation , tuning and planning on technical process and production flow rapidly, which saves machine debugging time up to 80%.

RioD®️ basically consists of two parts. First, RioD®️ can automatically complete path planning in virtual environment, and export information to real machine quickly and accurately with help of AOS calibration system AOS-Control-Calibration. Secondly, RioD®️ has also data collection function, which feeds back equipment information to system algorithm to complete the path optimization, thereby forming a closed loop of the system.
3D dynamic simulation of the whole processing flow of single station

Path planning with 3D model import

Accurate transfer from virtual to actual with automatic calibration system

Available for 700+ non-standard models

Available for multi-structure and –brand robots User secondary development
The system automatically generates smooth path

Trajectories can be generated offline, which significantly saves shutdown debugging time

The trajectory can be corrected point by point, as well as optimized and iterated quickly

Multi-sensor automatic calibration solution to solve the problem of virtual and actual

The single station processing can be simulated with virtual PLC