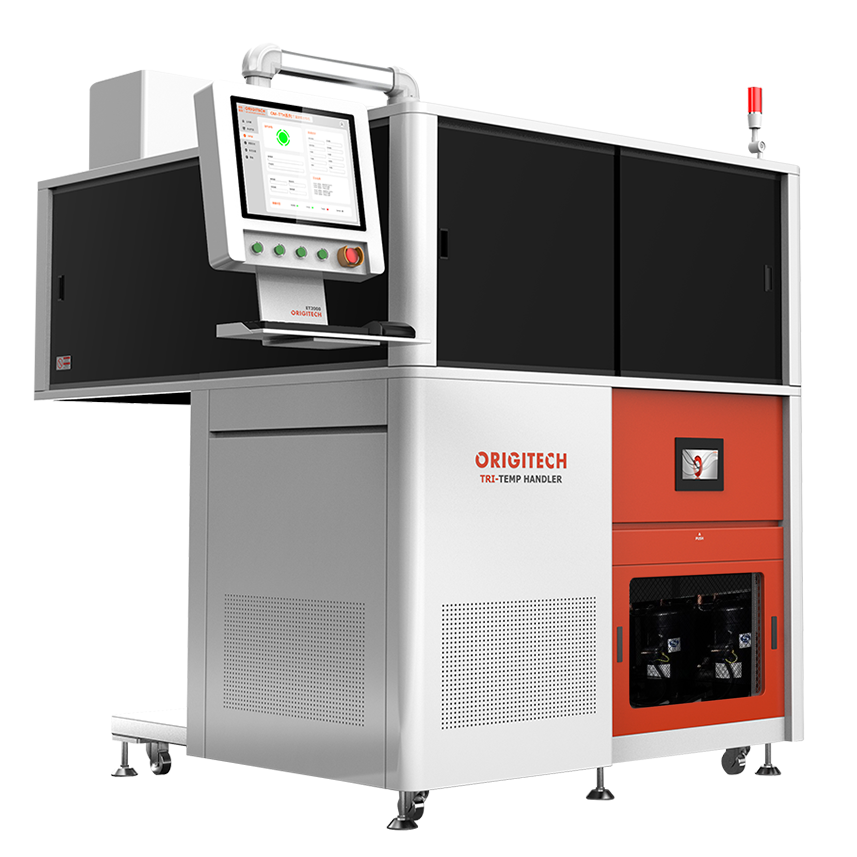 Semiconductor Tri-Temp Test Solution
Semiconductor Tri-Temp Test Handler ET2000T, one of the measurement and control solutions of IC semiconductor industry that powered by Origitech AOS intelligent control system, carrying the vision of OTIGITECH "enabling manufacturing, easier manufacturing".
Self-developed motion controller and control algorithm
One motion controller for logic control, motion control, robot control and visual algorithm.

Complete digital temperature control

Self-developed temperature control system, from -65℃ to +175℃. Static accuracy ±0.1 ℃, and dynamic accuracy ±0.5℃.

Visual secondary positioning

Self-developed AutomationOS©-Vision software ensures that the ICs are accurately placed in the receiving position.

Parallel Testing Sites

Single/dual site

Test result

Five

Tray type

JEDEC(315mm × 135.9mm × 7.62mm)

Loader/Unloader

Automatic

Package types

QFP, SOP, TSOP, PGA, BGA, PLCC, CSP, etc.

Package sizes

3mm × 3mm ~ 55mm × 55mm

Temperature range

-65℃ to +175℃

Chilling power

200W@-45℃,100W@-65℃

Temperature accuracy@5w TDP

<0.5℃

Temperature ramp rate @plunger

Cooling down +25℃ to -40℃,30s

Heating up +25℃ to +125℃,1min

Soaking zone

Soak positions: 8+

Temperature Range -65℃ to +175℃

Temperature sensor

PT100/ thermocouple

Tester interfaces

TTL,GPIB

Productivity

Amb. 1800UPH / Hot 1200UPH

Plunger force

Max. 60Kgf

MTBA

0/5000 ~ 1/10000

Power requirements

AC200 ~ 240V 50/60Hz, Single-phase 8.8KVA

Equipment

1800mm(L) × 1500mm(W) × 1900mm(H)